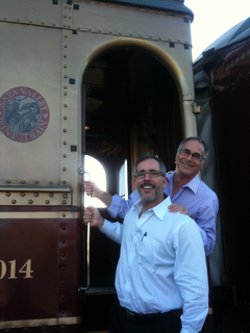 ALL ABOARD!
It's amazing how many of our troops that have lived in the Napa Valley for a long time but have never taken a ride on the Napa Valley Wine Train. Well, here's your chance!
Join the troops from the Napa Guerilla Gay Bar when we ride "The Big Gay Train" on Saturday, March 12, 2011
Our friends at Out in the Vineyard (that's Mark and Gary in the picture) have pulled out all the stops to ensure an evening of fun featuring delicious food as well as wine from 5 of Wine Country's fabulous gay winemakers and winery owners!
All-inclusive tickets are $125 for the "Gourmet Express" car or $150 for "Vista Dome" seating. Out in the Vineyard will be donating a portion of the proceeds to the Queen of the Valley to support HIV/AIDS services provided by the CARE Network.
Tickets can be purchased on-line at winetrain.com, by phone by calling (800) 427-4124 or at the Wine Train station (1275 McKinstry in Napa)